It's not everyday I get to be reminded when my ten year high school reunion is (next year 2018.. but who's counting?), however last Thursday-it  jogged my memory.
The Home Builders Association of St Louis and the St Louis Association Of Realtors collaborate through out the year, on community engagements- so when they asked me to attend one of the classrooms at Rockwood Summit Highschool as the featured speaker- I was elated!
My first order of business for preparation? A cookie order that included Rockwood Summits colors- White, black & maroon. Thanks to the Sweet Link 🙂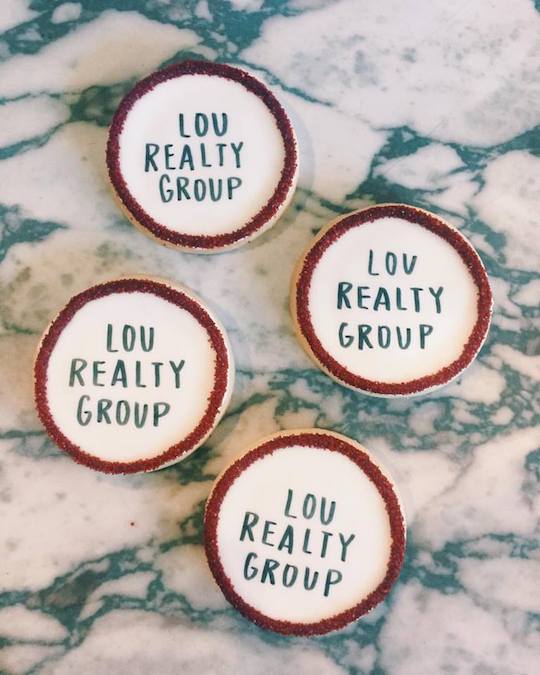 I've been selling homes in this school district for quite some time and have attended events at the school but speaking in their homerooms was a first! From the school grounds to the cafeteria, classrooms, educators and staff- you will quickly be reminded, what all the rave is about.
Their vision states, "One Summit. One Legacy. Inspiring Excellence" and it is extremely prevalent in both their students and classrooms.
Last year, their principal Renee Trotier, EdD, was named as Missouri's 2017 High School Principal of the Year!
I had the pleasure of visiting, Ms. McKnight's Housing & Interior Design class. They had just finished working on floor plans- that might I add, looked better than some I have drawn up 🙂 It included measurements, drawings & a description of the floor plan- even giving me a few new ideas for our own MLS descriptions.
Discussions included; Marketing and selling existing construction and new construction, how we come to select suggested interior and exterior materials such as paint colors, flooring, etc. What real estate transactions all entailed & the background of Lou Realty Group.
Questions from the students included- "Was it hard to find your own home to purchase after looking at so many?", "Is an older home more difficult to sell than a newer one?" and a true St Louisian question-"What high school did you go to?"
The 50-min class flew by and our LRG cookies were quite the hit before lunch 🙂
Thanks again for having me Rockwood Summit!
And if you know someone buyer or selling, I would love to help them!
Cheers 🙂
-Lucy Feicht