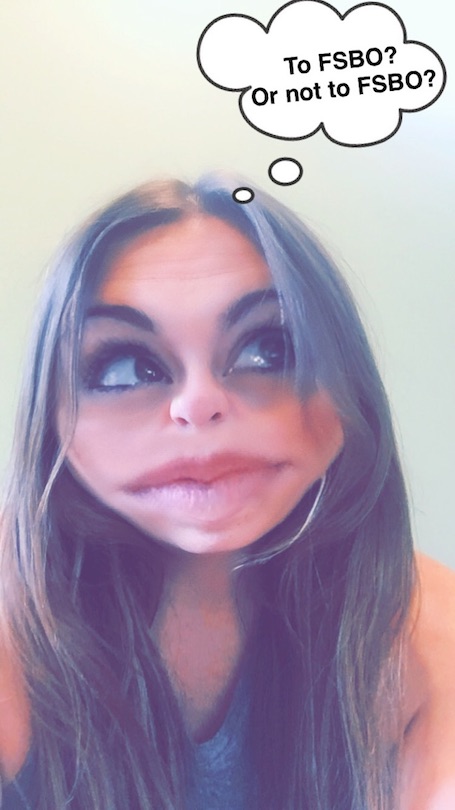 While there may be some initial positive thoughts that a homeowner has regarding listing their house without a REALTOR® (i.e. saving on commission), there are a lot of other important factors that go into marketing and selling a home that one may forget to consider.  So, we thought we would create this to serve you as a guide on deciding whether or not doing a For-Sale-By-Owner is the best choice for you.
Costs Involved
Commission:
While you begin considering selling your home yourself, the first thought most people have is that they will be saving themselves a boat-load of money by not paying out a REALTOR's commission. That's not entirely true.  Chances are that most potential buyers who look at your home will already have an agent they are working with, one who will be expecting to get paid their 2.7-3% commission as usual.  So, while you may be saving some money, you will still need to plan on paying approximately 3% of the sales price towards a buyer's agent commission.
For the small group of folks who are not already working with an agent, they will expect to see some of your commission "savings" on their end as well.  Expect for them to want that 3% mentioned above for themselves.
Lawyer fees:
Unless you're an attorney, you will not want to go through the home selling process without someone to be sure you are legally covered in every area of the sale. Attorney fees can get a bit pricey depending on how much paperwork you need them to go through.
Closing the sale may require you to have a transaction broker or lawyer involved. The typical charge for a transaction broker is 1% of the sales price ($2,000 on a $200,000 home).
Staging: 
Staging is a very important aspect of successfully selling a home and getting the most money possible.  Unless your home looks like it came straight out of a Pottery Barn catalog, you need to highly consider hiring a professional staging company.  At the very least, have them come in for a consultation and provide recommendations on how they will maximize your profits if you utilize their professional services.  Don't trust us on this?  Feel free to research the benefits of home staging online.  You will find a TON of articles that clearly explain the benefits and show pictures of the difference between an un-staged home and a staged home.  Check out one of our previous blog posts here:
Why You Should Stage Before You Sell
Most REALTOR's® will likely have a staging company that they regularly work with, which could provide you with a savings here.  Otherwise, plan on staging costing anywhere from $500 – $3,000.
Photography: 
Don't think for one minute that pictures don't matter…they are one of the most critical components to a successful listing.  Studies have shown that having good professional photographs of your home can add thousands of dollars to the sale price.  Professional photography costs approximately $150-300
***Lou Realty Group includes the cost for professional photographs with their commission. 
Marketing:
Not many people get away with a successful sale by sticking a FOR SALE sign in the front yard and calling it a day.  If you plan to list your house for sale, you will need to plan on how you are going to market the property.  Getting on the MLS will make your property visible online and to REALTORS® which is very important.  In order to do this without having a listing agent, you will need to find a brokerage or company that charges a flat fee for MLS input.  The average cost for this is about $1,000.
Time Involved
How much free time do you have to prepare the marketing plan for your home, get it cleaned and staged, take phone calls, answer emails, respond to text messages, respond to voicemails, provide access for showings, negotiate offers, work through inspections, hire contractors for repairs, etc. etc. etc.?  One may not initially realize that there is A LOT of time and that goes into this.  And as we've all heard… "TIME IS MONEY".  Whether or not you know your own going rate, your time is worth something.  This is why there are REALTORS® in the world who work hard to be experts at everything we mentioned above and do all of that work for you.
Skills Involved
Negotiating: 
Let's face it, we aren't all natural born negotiators.  In fact, it makes most of us uncomfortable. So, unless you're the type of person who has no problem going into your local department store and telling the cashier you will pay $12 cash for a shirt that has a price tag of $20, this probably isn't going to be your strong suit.  Even then, you may not be as good as you think.  You need to be fully prepared to properly negotiate with offers that come in, especially when the person on the other end is an agent who does this for a living.
Determining how much your home is worth: 
Being able to properly price a home isn't as easy as it may seem.  Especially when you're trying to look at your home as an outsider and forget about all of the things you know and love about it.  Because, your home is the nicest one on the block, right?  And, you know for a fact that it is a great place to hold family gatherings because you've witnessed it year after year at your kids birthday parties.  And what about that $5,000 you spent last year replacing the old rotted fence?  The new $5,000 fence has to add that much more value to your home, right?  WRONG.  All wrong.  Fact is, homeowners are prone to thinking their home is worth more than it actually is.  They simply can't help it.  Determining a competitive list price requires a lot of data and market knowledge that REALTORS® come armed and ready with.
Could you go down swinging?  
Overall, there are a lot of items and costs that you have to consider when thinking about selling your home without an agent.  Studies show that homes sell faster and at a higher price when using a REALTOR®.  So, while you may start out thinking you are saving yourself a ton of money by not using a REALTOR®, you could potentially end up losing yourself even more money for yourself after all is said and done.
-Dana Eller